De Boer group: Mechanics of Materials
Our group works within the discipline of Mechanics of Materials, which combines a rigorous understanding of the stress states imposed by applied forces with research into the microscopic mechanisms that metals, ceramics and polymers employ to accommodate the associated deformations.
Our current areas of emphasis are in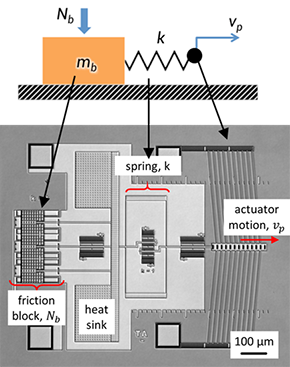 Understanding the behavior of grain boundary phases, known as complexions, in metals
Manufacturing and joining of Inconels, stainless steels, low carbon steels, and refractory metals by the 3-D printing method known as directed energy deposition
Micro- and nanoswitch reliability, and
Developing high temperature structural material for applications in microelectromechanical systems and as an actuator material for thin film mechanical behavior studies including creep.
The image to the right shows a test platform our group developed to elucidate the laws of friction at the microscale, as featured in a December 2022 article in the Materials Research Society Bulletin.  We have conducted extensive research on enhancing the reliability of micromachined devices, including fabrication, test and analysis of new structures, and of building advanced test chambers.
We collaborate with faculty in the Materials Science, Electrical Engineering, and Mechanical Engineering departments.