Robinson earns David Sinclair Award
Oct 8, 2020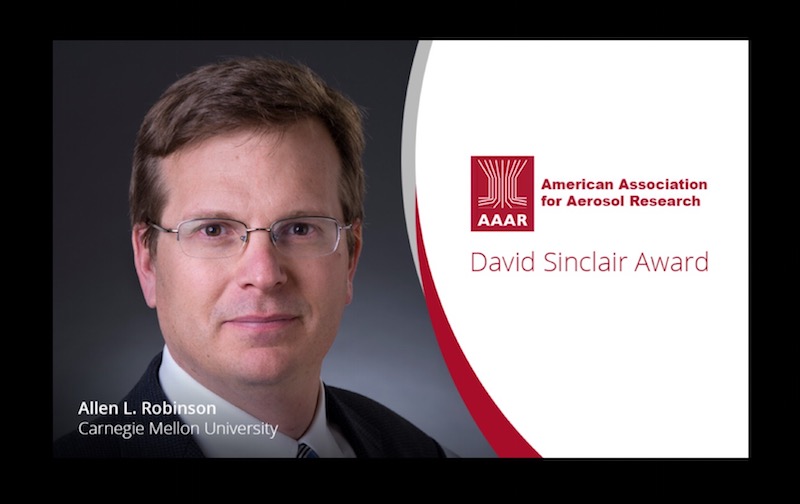 The American Association for Aerosol Research (AAAR) has named Allen Robinson, the David and Susan Coulter Head of Mechanical Engineering, the recipient of the David Sinclair Award. The award celebrates Robinson's sustained excellence in aerosol research and technology, and recognizes the lasting impact of his research.
Robinson's work examines technical and policy issues related to the impact of emissions from energy systems on air quality and climate. His activities include process-oriented field and laboratory experiments, development and evaluation of mathematical models to describe atmospheric processes, exposure characterization, and the application of models for policy analysis and decision making.
He teaches courses on graduate and undergraduate courses on thermodynamics, atmospheric chemistry, air pollution control, climate change mitigation, combustion, and air quality engineering.
Robinson is also the Raymond J Lane Distinguished University Professor of Mechanical Engineering and Professor of Engineering and Public Policy. He directs the EPA-funded, multi-institutional Center for Air, Climate, and Energy Solutions (CACES).
The award memorializes David Sinclair, one of aerosol science's great innovators, known for his knowledge, ingenuity and energy. Sinclair distinguished himself as a pioneer in aerosol science through his work with Victor LaMer at Columbia University.;
The AAAR hosted its 38th annual conference online the week of October 5-9, 2020.
Media contact:
Lisa Kulick
lkulick@andrew.cmu.edu