Robinson named University Professor
Aug 10, 2020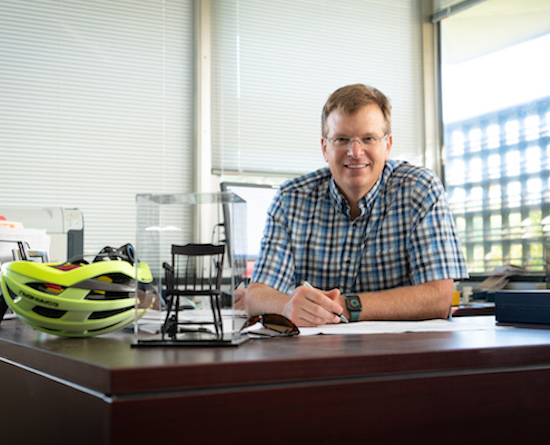 Allen L. Robinson is one of seven Carnegie Mellon University faculty members being elevated to the rank of University Professor, the highest distinction a faculty member can achieve at CMU.
"I feel very humbled," said Robinson, the David and Susan Coulter Head and the Raymond J. Lane Professor of the Department of Mechanical Engineering, and Professor in Department of Engineering and Public Policy. "The secret is to surround yourself with great colleagues."
The University Professor distinction recognizes his exceptional contributions to education and research as well as his professional achievements. Under his leadership, the Department of Mechanical Engineering has developed innovative curricula, increased enrollment, and broadened research thrust areas to prepare future generations of engineers.
Expanding hands-on learning experiences has been an important goal of Robinson's. He played an integral role in establishing the College of Engineering's Tech Spark design, fabrication, and prototyping facilities, and student learning labs, in the new ANSYS Hall. He is leading the effort to design a new Scaife Hall that will feature reconfigurable classrooms, modern, collaborative laboratories for multidisciplinary research, and interactive community space.
In July, Robinson was also named a Distinguished Professor of Engineering. This accolade acknowledged:
His transformational environmental research on fine particle air pollutants formed through complex atmospheric processing of emissions from vehicles, power plants, and other combustion processes that are major contributors to human health effects and global climate change. His seminal work and professional leadership have fundamentally advanced national and international solutions to these pressing societal problems.  
His targeted and impactful educational contributions and leadership as Head of the Mechanical Engineering Department, leading the top-ten ranked department through a period of exceptional growth, curricular improvements, diversity, and the creation of world-class facilities, all of which have substantially enhanced the engineering college. 
Robinson serves as the director of the EPA-funded Center for Air, Climate, and Energy Solutions (CACES) and a founding member of the Center for Atmospheric Particle Studies (CAPS).
The Department of Mechanical Engineering joins the university and College of Engineering in congratulating Professor Robinson on his well-deserved recognition.

Read the Carnegie Mellon University News article.  
Media contact:

Lisa Kulick

lkulick@andrew.cmu.edu