Robinson elected AGU Fellow
Oct 26, 2021
Allen Robinson, head of the Department of Mechanical Engineering at Carnegie Mellon University, was elected as an American Geophysical Union's (AGU) Fellow. He joins 59 other individuals in the organization's 2021 Class of Fellows.
Since 1962, the AGU Fellows Committee has selected less than 0.1% of members as new Fellows. AGU, a nonprofit organization that supports 130,000 enthusiasts to experts worldwide in Earth and space sciences, annually recognizes a select number of individuals as part of its Honors and Recognition program. 
According to AGU, Robinson was selected for his outstanding achievements and contributions that push the frontiers of science forward. He represents the the organization's vision of a thriving, sustainable, and equitable future powered by discovery, innovation, and action. Equally important is his integrity, respect, and approach to collaboration while creating deep engagement in education, diversity, and outreach.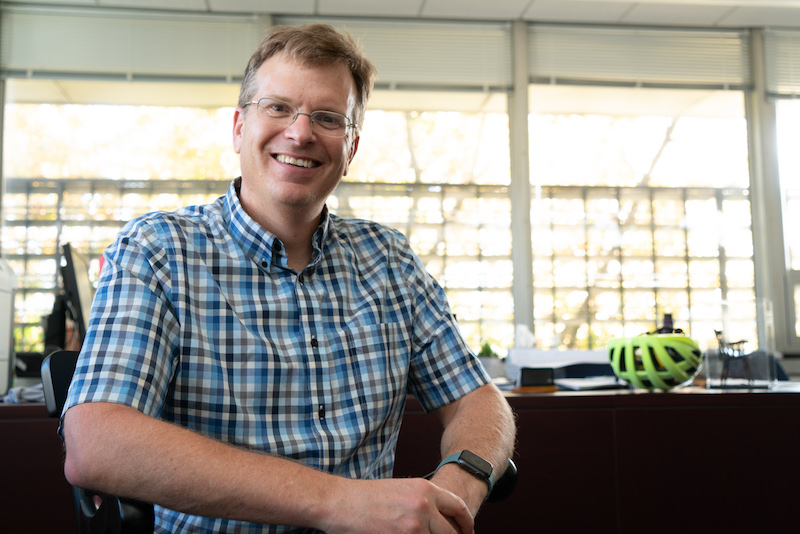 "I am honored by the AGU's invitation to join their 2021 Class of Fellows," said Robinson. "The organization's impactful work in advancing Earth and space science is inspiring, and their recognition of me is humbling."
Robinson's research examines technical and policy issues related to the impact of emissions from energy systems on air quality and climate. A member of CMU's Center for Atmospheric Particle Studies, he also directs the multi-institution, EPA-funded Center for Air, Climate, and Energy Solutions (CACES).
As a professor of engineering and public policy and mechanical engineering, he teaches courses in atmospheric chemistry, air pollution control, climate change mitigation, and air quality engineering.
Under Robinson's leadership, the Department of Mechanical Engineering increased student enrollment significantly, broadened its faculty, and re-structured curricula to prepare the next generations of engineering.
"I've had the privilege of knowing and collaborating closely with Allen for more than two decades now, and I have consistently been impressed with his research vision and creativity," said Peter Adams, head of the Department of Engineering and Public Policy. "I've found him to be an inspiration and source of wisdom. This is truly a well-deserved honor for him."

AGU will formally recognize this year's recipients during the AGU21 Fall Meeting held December 13-17, 2021 in New Orleans, LA and online. AGU's community plans to recognize the outstsanding work of colleagues and celebrate their accomplishments and stories. 
Media contacts:
Lisa Kulick, Carnegie Mellon University, lkulick@andrew.cmu.edu 
Nanci Bompey, American Geophysical Union, news@agu.org