Virtually awarded
In an interactive virtual world, graduate students earned accolades for research
Apr 9, 2021
The Department of Mechanical Engineering held its annual Ph.D. and M.S. Research Symposium poster sessions virtually in March 2021. These events traditionally take place on campus and provide an engaging opportunity for students to showcase their research while visiting prospective graduate students experience some of the department's dynamic research. Due to the COVID-19 pandemic, this year's events were a little different.
Using Gather Town, a spatial video-chat world platform, students presented their research online to faculty, judges, advisors, and prospective graduate students. Virtual rooms were divided into research categories and student took their places as avatars at tables much like at the in-person poster sessions.
Guests interacted directly with the students, learning about their research, asking questions, and engaging in discussions about the work. They also traveled around the virtual location in a "meet and greet" experience.
Judges included faculty members and postdoctoral researchers who evaluated the students' work before deciding on the winning entries and announcing awards. Ph.D. winners each received the Milton Shaw Ph.D. Student Traveling Award to cover up to $1,000 in expenses for students to present their research results at a conference. Master's student winners received $250 each.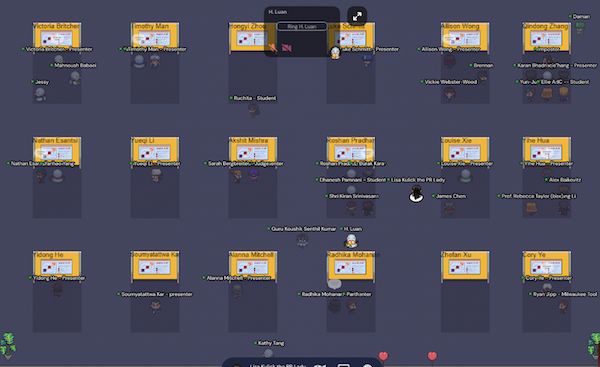 Research symposium winners, Ph.D. session

Additive manufacturing
Sandra Ritchie, Thermal gradient driven shape distortion of sintered particle structures via mass transport 

Bioengineering
Ashlee Liao, Quantification of neuron morphological development using the change point test
Nikhil Verma, Real-time neuromusculoskeletal model for myoelectric control of ankle prosthesis

Computational engineering
Jie Gong, Physics-informed data-driven approach to optimizing electrocaloric (EC) cooling
Varun Shankar, Learning non-linear spatio-temporal dynamics with convolutional Neural ODEs

Micro/nanoengineering 
Arman Ghaffarizadeh, Excess entropy scaling in active matter systems 
Sebastian Arias Roldan, DNA Oriceps: Nanometer-scale level as a displacement reporter

Energy and environment:
Adarsh Dave, High-dimensional optimization of battery electrolytes for ultrafast charging
Mohammad Babar, An accurate machine learning calculator for the lithium-graphite system

Robotics:
Mengdi Xu, Task-agnostic online reinforcement learning with an infinite mixture of Gaussian processes
Research symposium winners, Master's session

Robotics and controls
Kartik Sah, Data augmentation combined with adversarial examples for robust point cloud classification
Allison Wong, Design and evaluation of 6DoF modular, cost-conscious autonomous underwater vehicle with GPS-denied 6DoF state estimator
Nabarun Banerjee, Design and implementation of modular magnetic-wheeled robot for autonomous ship-hull inspection 
Cory Ye, Design of robotic system of distributed actuators for positioning window frames

Computational engineering 

Rit Bezbaruah, Assessment of the effectiveness of lattice structures in impact absorption for application in bicycle helmets
Akansh Shetty, Prediction of microstructure's mechanical properties from uniaxial compression videos using deep learning


Energy and environment, advanced manufacturing, bioengineering, micro/nanoengineering, and product design
Gabriel Kornilowicz, Design and modelling of shape memory alloy serpentine spring actuators
The Department of Mechanical Engineering congratulates the award winners for their outstanding research and extends its gratitude to the faculty and staff who made the event possible. While the events ran smoothly and guests offered positive feedback, the department hopes to return to the in-person version of the research events next year.
Media contact:
Lisa Kulick, lkulick@andrew.cmu.edu