A Tartan aims for the moon
Lisa Kulick
Sep 8, 2020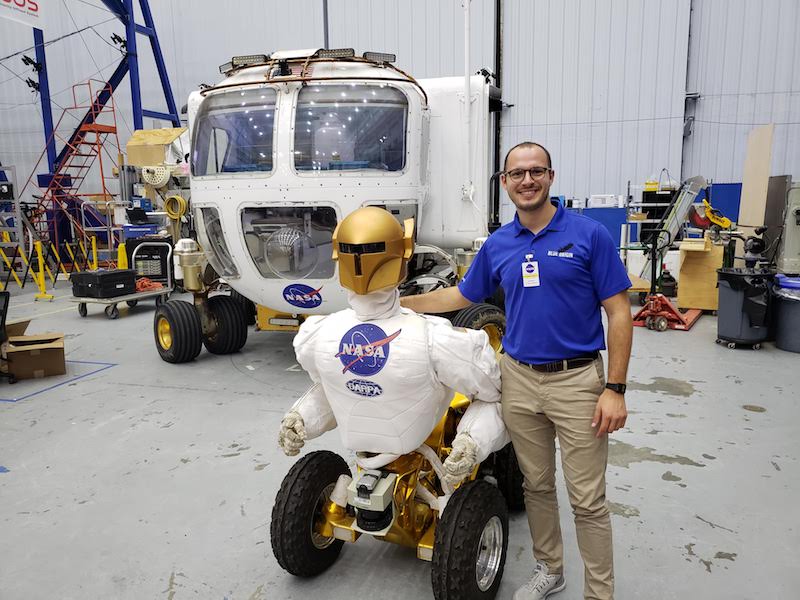 When Lawrence Papincak earned his master's degree in mechanical engineering in 2018, his dreams for the future were out of this world—literally. Today, he is a research engineer at Blue Origin in the Advanced Development Program - Flight Sciences group where he is working on navigation systems for NASA's next moon landing of American astronauts.
As a child, Papincak liked to take apart remote control cars and electronics. "This spawned a lifelong joy in figuring out how each piece of technology around me worked, driven by an insatiable curiosity," he said.
His parents enrolled him in a robotics summer camp at Carnegie Mellon University, where the focus on research and project-based learning became increasingly attractive. "Coupled with the benefit of being taught by some of the worlds leading educators and researchers, I was set on making CMU my home at some point in my life," said Papincak.
Over the years, his tinkering led him to Drexel University where he earned his undergraduate degree in mechanical engineering, focusing on air craft dynamics and control. He returned to Pittsburgh to pursue an M.S. in Mechanical Engineering at Carnegie Mellon.
I would not be where I am without the education and mentorship I received at Carnegie Mellon.

Lawrence Papincak, Blue Origin
Papinchak recalls taking the advanced control systems integration course with Associate Teaching Professor Mark Bedillion. Students were given a small quadcopter to develop a project that exercised how the theory they were learning in class applied to the real world.
"My group chose to replicate the traditional children's ball-in-a-cup game with the quadcopter, swinging a small mass and catching it in a small basket atop the quad," he explained. "Projects like this help to develop not only applied skills, but also the confidence to tackle bigger and bigger problems in the future."
As a research assistant for Professor Red Whittaker in Carnegie Mellon's Robotics Institute, Papincak focused on developing robotics systems for inspection of nuclear environments. Through this opportunity, he was able to see a system that he had helped to build go from the whiteboard to deployment inside an old uranium enrichment facility.
"I also had the pleasure of using one of the robots I had worked on in the field right in Pittsburgh, inspecting a collapsed tunnel system near the Strip District," he said. "This experience, along with my project-based work, was paramount in developing the confidence to chase the dreams I am now chasing."
Papincak enjoys working at the intersection of robotics and space today, taking a difficult technical problem and putting it in one of the harshest environments. "I see that as a challenge and it feeds my curiosity to figure out how humanity can extend its reach into the solar system with robotic systems."