Tartan Scholars program nurtures a village
How a CMU initiative builds community to close opportunity gaps
Katy Rank Lev
Aug 3, 2020
Nick Murphy has always relied on mentorship to help him find opportunities and plan how to reach his goals. At home in St. Louis, Missouri, Murphy had a mentor who helped him find a study abroad program in Japan and a pre-college music program for talented pianists. Murphy's mentor helped him fundraise and find a host family in Pittsburgh so Murphy could study at Carnegie Mellon University the summer after his junior year of high school.
Murphy first stayed with CMU physics professor Jim Russ and later with Richard Scheines, the dean of CMU's Dietrich College. Scheines and his wife, Martha Harty, learned that Murphy was looking to study international relations and politics, but coming from a low-income background, Murphy wasn't sure a place like CMU could be a good fit for him. Scheines encouraged Murphy to look at a new CMU program called Tartan Scholars.
"I think about that moment a lot," Murphy said a year later, as he finished his first year at CMU with enough credits to be considered a sophomore. "I always hear people say 'it takes a village,' and now I really see what that means."
The Tartan Scholars program is specifically designed to support incoming first-year students who are academically high-achieving and come from limited-resource backgrounds. Scholars are grouped into "families" of students from their same academic college and paired with mentors — upper class students from similar backgrounds who are paid for their time helping to support the Tartan Scholars.
A series of meals, regular meetings with program advisors as well as tutoring, counseling and emergency resources work in tandem to create a community of care surrounding the Tartan Scholars.
Branden Ballard, program manager for the Tartan Scholars, explains that attending an elite university like CMU involves a lot of intricate systems that Tartan Scholars might not know how to navigate. "We have cultural access issues here," Ballard said. "My job is to give our students who are not used to working the system the ability to understand how to do that."
Ballard explains that unexpected hurdles can lead students to hit a wall. For example, if a professor reveals on the first day of class that students require a $600 calculator, that wasn't considered in a student's aid package. "Not all students know they can just go to the HUB and adjust their financial package," Ballard said. "They don't know that's a problem that can be solved."
Ballard explains that his job with Tartan Scholars is twofold: he makes sure students know where to go to find solutions, and he also helps investigate these situations to see how the university can make adjustments. 
"Often, Tartan Scholars have a background of surviving, of 'talenting' their way through situations," Ballard said. "Other students have a buffer to help pull them through these situations."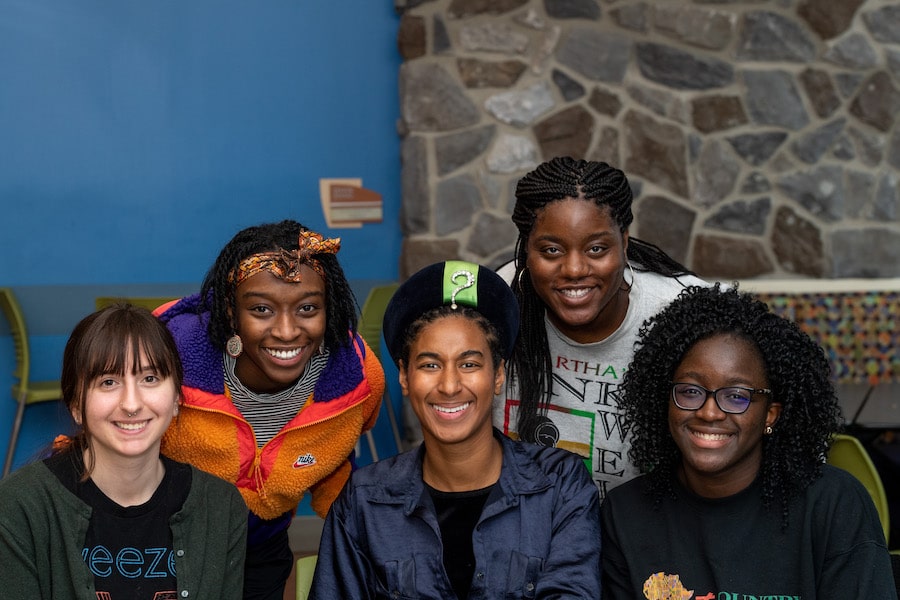 Made possible by support from a five-year gift from the Posner Foundation of Pittsburgh, the Tartan Scholars focuses on connection, communication and coaching. Over shared bags of Flamin' Hot Cheetos, the program staff, students and mentors check in about their successes and their challenges, helping each other to wade through unfamiliar waters.
Jen Gilbride-Brown, assistant vice provost for student success and equity, said, "The Tartan Scholars program has been a campus-wide collaboration. All areas of the university have come together to understand and to support the experiences of students from limited resource backgrounds. This is important because supporting Tartan Scholars impacts better support for all students."
Murphy always had good grades in high school. Coming to CMU, he struggled to keep a schedule. "I'm not lazy," he said. "But I kept missing appointments. I finally went to my laptop and learned how to make recurring appointments on a digital calendar. It was an amazing moment in my life."
Ballard explains that students often come to CMU with their heads held high, get involved with campus life, but by the sixth week of term they start questioning whether they belong. "At Tartan Scholars, we turn our attention to reminding these scholars that they were leaders and great students at their high schools. We remind them of their successes and work to reengage those leadership abilities."
One critical element of the Tartan Scholars program is the mentorship from older students who come from similar economic backgrounds as the scholars. Called Tartan Scholar Ambassadors, these students were identified by program staff and invited to apply for the position.
Maame Conduah leapt at the opportunity. Conduah, a junior in mechanical engineering, began meeting with Lauren Warden-Rogers, associate director for student academic success, one year ago as part of CMU's Summer (re)CHARGE program. Conduah is always frank and open about finances, and would have qualified for Tartan Scholars if the program had existed in her first year. Warden-Rodgers encouraged Conduah to apply for the Ambassadors program.
"Tartan Scholars has been a vital community for me, even though I'm an ambassador and not a scholar," Conduah said. She was able to participate in community meals and discussions starting last August when the group came to campus early to connect. "The people leading the program genuinely, deeply care about the students," Conduah said. "[Warden-Rodgers] has been the most important person in my academic career. I used to feel like everyone else on campus had a picture-perfect experience."
Conduah values the conversations she's had with the group, validating people's experiences and making sure the first-year students know they are not alone. "This whole year connecting with Tartan Scholars has been honestly amazing."
Olivia Keller, a senior in chemical engineering, also became a Tartan Scholar Ambassador, meeting throughout the year with a "family" of Tartan Scholars to discuss goals and plans for the upcoming semester. "I wanted to be part of a community that shows people they don't have to be 'other,'" she said. "At Tartan Scholars, we can be honest. We can talk about our imposter syndrome and validate each other, plus share the things we have learned and steps to overcome specific challenges."
Tartan Scholars has given me a community of people who have the same experiences and who remind me that we all do belong at this school. That's meant everything to me.

Maame Conduah, Mechanical engineering junior, Carnegie Mellon University
In the spring of 2020, the coronavirus upended life for everyone, and the Tartan Scholars felt the sting of remote learning especially hard. Ballard explains that the 54 Scholars were more likely to be returning to places without access to high-speed internet. Ten scholars remained on campus because that was the safest option for them. "This upheaval really changed a lot for this particular subgroup of students," Ballard said.
This was certainly true for Murphy, who had been spending spring break in California with another scholar when the pandemic hit. "I didn't transition well to an online environment," said Murphy, who didn't have access to Wi-Fi or a dedicated space to complete his work. "I ended up having to drop three of my courses, which impacted my plans for the semester in Washington program."
Murphy relied on his Tartan Scholars network to talk through his feelings, get the resources he needed to finish the semester, and make a plan for summer to get back on track. Murphy and the rest of his cohort are all planning to remain at CMU, and his experience helped solidify the Tartan Scholars plans to expand in their second year.
Program staff is currently at work designing a sophomore experience for the returning scholars. They're also expanding enrollment, inviting 150 new students this summer.
To facilitate this growth, the pilot cohort of Scholars has been invited to apply for Ambassador positions. Murphy was quick to apply. He said, "I leaned on networks to get where I am today. Mentors changed my life. I used to think opportunities like study abroad only existed in movies. So yeah, I want to help celebrate people's differences."
Ballard emphasizes that the Ambassadors have been critical during the time CMU has been using remote instruction. Ambassadors have led the way creating opportunities for Scholars to engage (they organized book clubs and even origami lessons). Through it all, the connection and community for students with similar lived experiences has been vital.
Conduah is not yet sure whether she is able to return to campus in person this year, but she definitely knows she will continue her work as a Tartan Scholar Ambassador. She said, "When you're coming from a limited resource background where you were used to being around others who shared similar experiences, it's very hard to feel like you belong. Tartan Scholars has given me a community of people who have the same experiences and who remind me that we all do belong at this school. That's meant everything to me."
This article originally appeared in Carnegie Mellon University News.
Media contact:
Jason Maderer
maderer@cmu.edu