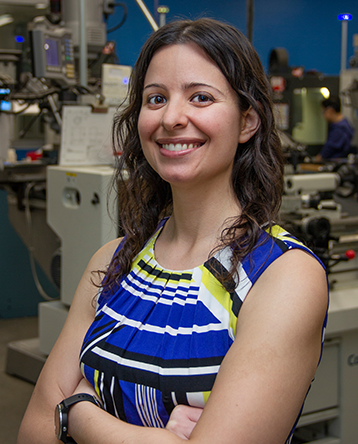 Diana R. Haidar joined Carnegie Mellon University in fall 2017 as an assistant teaching professor in the Department of Mechanical Engineering and leads efforts in the new Maker Ecosystem. Her prior research work developing both metal and polymer nanocomposites for advanced performance in extreme environments required her to design, fabricate, and build various custom testing equipment for these unique materials. In instructing undergraduate and graduate student teams to make their own machinery, she developed a passion for using maker space resources to bring more hands-on design experiences to the classroom.
Haidar focuses her efforts on connecting students to new makerspace resources. She is a proponent of increasing active learning in the classroom and enhancing engineering education by making. In addition to her makerspace and teaching roles, she pursues her passion for promoting diversity in STEM through youth outreach activities
Education
2017 Ph.D., Mechanical Engineering, University of Delaware
2011 BS, Mechanical Engineering, University of Wisconsin-Madison
Affiliations
Media mentions
CMU Engineering
Making it happen
From collaborative maker spaces to multidisciplinary make-a-thons, Diana Haidar plays an integral role in the College of Engineering's maker ecosystem.