In memoriam: John Wiss
Feb 11, 2019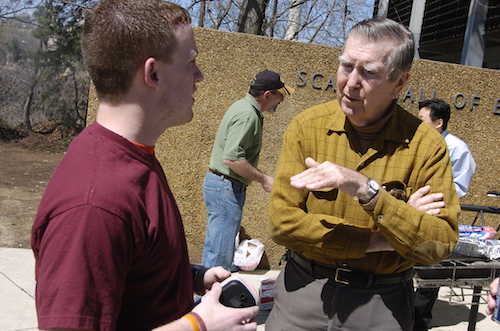 John William Wiss, a professor of mechanical engineering at Carnegie Mellon University for 30 years, passed away on January 13, 2019. He was a respected and beloved teacher, mentor, and colleague.
"Professor Wiss truly cared about the students, and this did not end at the classroom door," said Allen Robinson, head of the Department of Mechanical Engineering. "He brought decades of experience from the military and industry to Carnegie Mellon, serving as a constant resource to students."
Wiss was an integral part of Carnegie Mellon Racing (CMR), the university's student chapter of the Society of Automotive Engineers (SAE) that designs, builds, and races vehicles. He served as the faculty advisor for many years, often generously funding the team from his own pocket.
"John's heart was really in the work. He enjoyed teaching the internal combustion engines course and working with the CMR team. Indeed, he was partly responsible for starting CMR," said Satbir Singh, an associate teaching professor who now teaches the course and advises the team. "I learned a lot from John."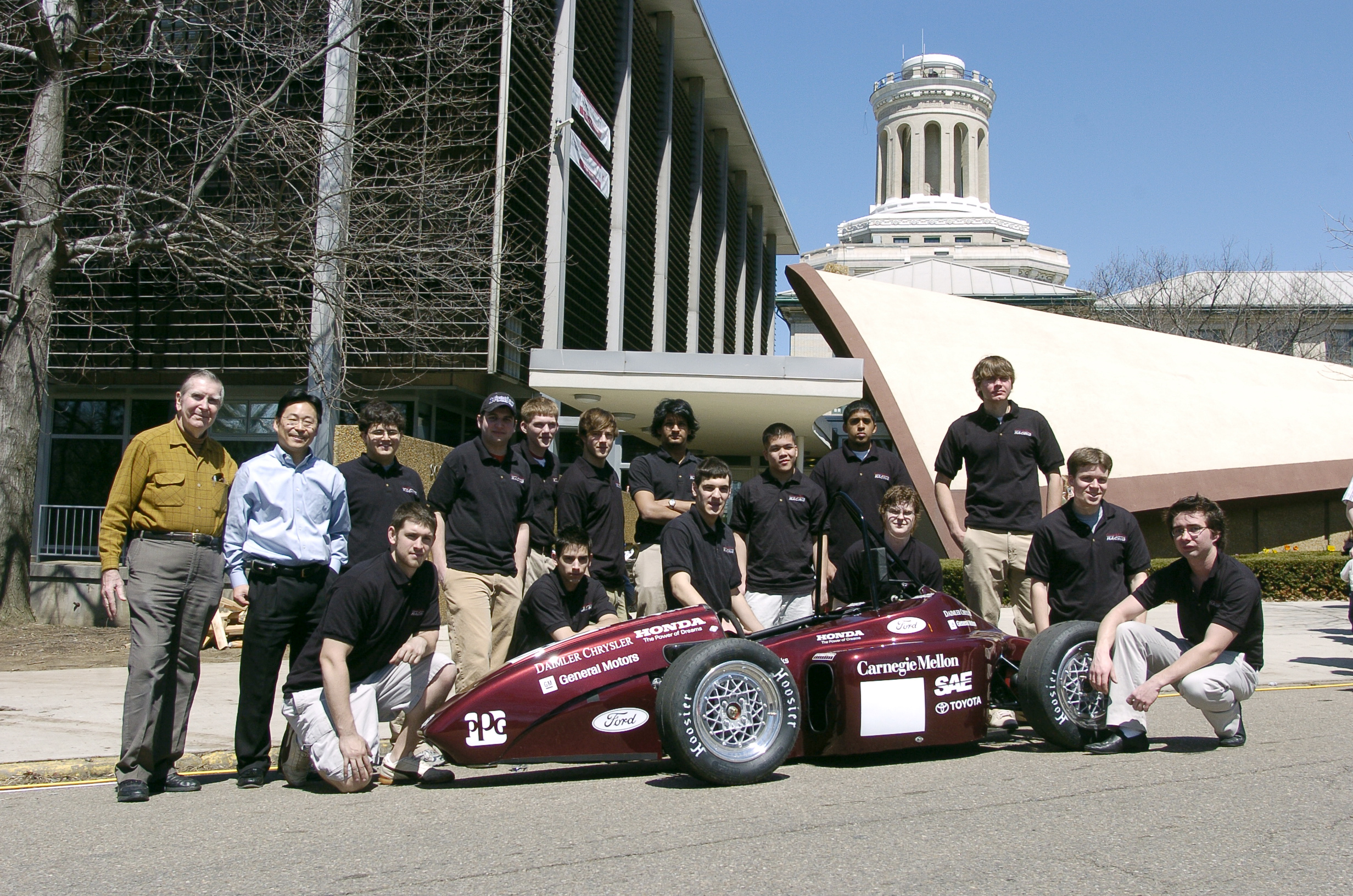 Former students remember Wiss
"I remember working in the lab on the engines Professor Wiss had collected over the years. [It was] one of the only places at CMU where you could really get your hands dirty," recalled former student and CMR team member Christopher Heiser, now CEO of Renovo. "It's possible that life would be very different without his support, encouragement, and trust in us at such an early age. I only hope I have similar opportunities in my career to help catalyze young minds."
William Northrop, now an associate professor of mechanical engineering at the University of Minnesota, remembers Wiss as being tremendously influential to him when he transferred to Carnegie Mellon as an undergraduate student in 1994.
"He introduced me to the field of engine research and gave me virtually free reign in the engine lab, Northrop said. "We continued to stay in touch when I went to work in Detroit and I came back to have lunch with him periodically leading up to my decision to go back to grad school. John helped me make the transition back to academia from industry, leading me to where I am today."
"He was one of those special professors that made a lasting impression with his genuine, caring nature," said John Black, now the senior vice president of new product development at Brain Corp.
In his own words 
In an 2005 Carnegie Mellon Today article about the racing team, Wiss explained, "Designing, building and operating a race car is a very demanding student activity. Students must pay serious attention to their engineering fundamentals in addition to considering the fine points that put them ahead in competition. This stressful atmosphere brings out the best efforts of our students." He described the experience as being a "major exercise in teamwork."
A lifetime of experiences 
Wiss received his education from the U.S. Military Academy at West Point, Rensselaer Polytechnic Institute, and the University of Michigan. He was a retired lieutenant colonel in the United States Army. His career included work at the Jet Propulsion Laboratory, the White Sands Proving Ground, and the Army Tank-Automotive Laboratories where he served as chief. Additional roles included chief technical officer at Rockwell Engineering, Fulbright scholar, entrepreneur of a fuel cell start-up, husband, father, grandfather and great grandfather.
Wiss had been living in the Washington, DC area with his daughter. There will be a burial at Arlington National Cemetery with full military honors this summer.*
The Department of Mechanical Engineering extends its condolences to his family, friends, colleagues, and former students. He will be missed.
*Those interested in information about the burial service at Arlington National Cemetery should contact Nicole Wolford: nwolford@andrew.cmu.edu.
Media contact:
Lisa Kulick
lkulick@andrew.cmu.edu