Zipper inventor's legacy
Hannah Diorio Toth
Oct 3, 2018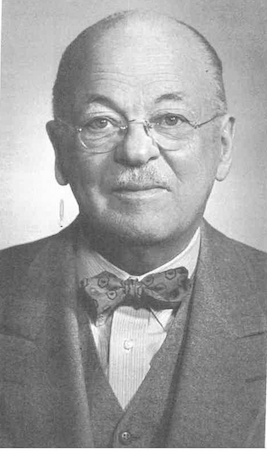 Gideon Sundback, credited as inventor of the modern-day zipper, developed the "Hookless No. 2" in 1914. Over a century later, the legacy of this clever and determined engineer endures around the globe through the ubiquitous fastening device. Gideon's memory has a special place at Carnegie Mellon University, where his work continues to inspire young creators through a generous fund established by his family—the G. Sundback Graduate Fellowship in Mechanical Engineering.
Since 2006, eleven MechE graduate students have received the G. Sundback Fellowship. With research ranging from engineering design to hydrogen fuel cells, these students exemplify the same tireless problem-solving skills as the fellowship's namesake. With fellowship support, the students can focus on tackling real-world challenges in the lab, exploring new ideas in the classroom, and even collaborating with leading professionals in industry.
For some students, like 2009-2010 recipient Frank L. Hammond III, the G. Sundback Fellowship means even more. For Hammond, it provided enough funding to complete several experiments critical to his doctoral research at Carnegie Mellon. With the support he received, he finished his Ph.D. thesis focused on the design of cutting-edge medical and industrial robots and was able to line up the next step in his career. Hammond now teaches at Georgia Tech and continues to foster the success of other promising young students. 
The fellowship, and the determination that the award encourages, is a fitting celebration of Gideon. His family fondly remembers him for his strength and resolve. "Gideon was not the hard driving guy that you might expect from a CEO today. He was an engineer that kept things going," says Gideon's son Eric. "This fellowship is a way for us to honor his hardworking nature."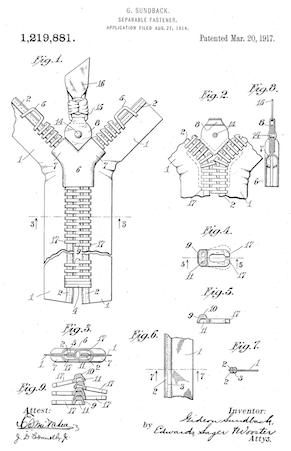 Gideon spent years developing what we now know as the zipper. Like all engineers, he was looking to solve a problem: make fastening clothing and other items simpler and more secure. As head engineer for Hookless Eye (which eventually became Talon Inc.) he made numerous, incremental advances towards perfecting both the zipper and the machinery used to produce the product.
His zipper manufacturing machine was known for its efficiency. The "scrapless" machine produced large amounts of product a day with no waste. It took decades for the zipper to be widely adopted by the clothing industry, but after World War II the device was embraced.  
"My father was totally interested in quality; this was his hallmark. He didn't quit when he had something partially done," says Eric. "Perfecting [the zipper] was what kept him going for a long time."
Gideon's family is motivated to support MechE because of Carnegie Mellon's dedication to innovation and the students' drive for success. The family also has ties to the Pittsburgh area, beginning with Gideon. After emigrating to the United States in 1905, Gideon worked at Westinghouse Electric and Manufacturing Company in Pittsburgh. The G. Sundback Graduate Fellowship, and the memory of Gideon that it holds, motivates discovery in MechE—perhaps for the next device as universally useful as the zipper.
"I am honored to be one of the recipients of the G. Sundback Graduate Fellowship. The fellowship will enable me to continue my research, which is using the powerful technique of Isogeometric Analysis in advanced image analysis problems, such as image registration, geometric modeling and image-based analysis. I am interested in applying for faculty positions after my graduation, and this generous support will be crucial towards attaining my career goals. Thank you for enabling this wonderful opportunity!" Aishwarya Pawar, Ph.D. student