A new chapter for Yao
After 41 years in Mechanical Engineering, Professor Yao retires
Apr 17, 2018
1977 was a memorable year. NASA launched Voyager I, the first spacecraft to leave the solar system, the Commodore PET computer made its debut, magnetic resonance imaging (MRI) was used on a live human subject, and the first Star Wars blockbuster hit the movie theaters.
For Shi-Chune Yao, 1977 was the year that he came to Carnegie Mellon University's Department of Mechanical Engineering.
Yao built his career on the field of heat transfer, specifically in the areas of two multi-phase heat transfer and sprays. Important applications for these specialties included electronic cooling, MEMS devices, and most recently additive manufacturing.
"He has incredible understanding >of heat transfer and fluid flow in thermal management devices," said Mechanical Engineering Department Head and Professor Allen Robinson. "He is a clear thinker with great intuition."
Prior to joining Carnegie Mellon, Yao earned his M.S. and Ph.D. at the University of California, Berkeley and worked as a senior engineering at Argonne National Laboratory and an adjunct professor at the Illinois Institute of Technology.
Shi-Chune arrived as the hot-shot heat transfer guy who helped breathe new life into our thermal-fluids program, though in his characteristically modest way he never sought the credit or recognition so richly deserved.

Allen Robinson, Department Head, Mechanical Engineering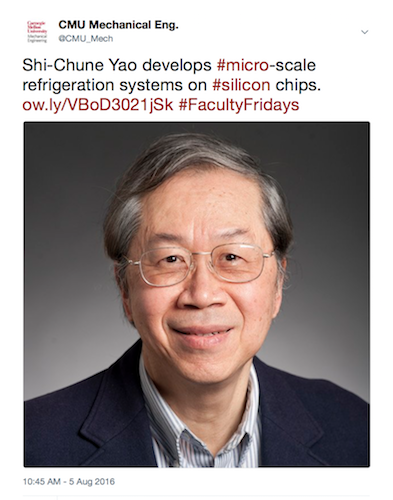 As an educator at CMU, he taught thousands of students in courses ranging from Advanced Heat Transfer to Renewable Energy Engineering. He served as an assistant professor and associate professor of Mechanical Engineering before rising to the rank of tenured professor in 1983.
As an advisor, Yao has supervised nearly 50 Ph.D. and master's students plus visiting scholars and post-doctoral research associates. He gave his students the space to explore new territory and be creative, but also kept them focused.
A former advisee, Ranga Pitchumani, now on the faculty at Virginia Tech, says, "Professor Yao taught me the art of doing systematic fundamental research with a view to eliciting insights into applications that I still teach to my students. Professor Yao has remained a dear mentor to me."
An accomplished research scientist, Yao has published more than 220 papers, contributed chapters to books. Some of his most highly cited papers include the description of the development of a MEMS-based micro-scale direct methanol fuel cell and an experimental study of the heat transfer of water spray on micro-structured silicon services.
He has reviewed papers for publications including the Journal of Heat Transfer, ASME Conference Papers, the International Journal of Thermal Fluid Science, and Applied Thermal Engineering. Over the years, he brought in over $14 million in research funding from sources like DARPA, the Department of Energy, National Science Foundation, the Office of Naval Research, and PITA. He holds multiple patents.
Professor Yao is awesome. He explains how things work rather than the nitty bitty technical details.

Former student, Mechanical Engineering, Carnegie Mellon University
Outside of the laboratory and classroom, Yao provided dedicated service to the university and research communities. Examples include Faculty Senate, the Carnegie Institute of Technology Promotion and Tenure Committee, both the Undergraduate and Graduate Education committees, and multiple faculty search committees. He also chaired several of these teams.
In 2005—and again in 2012—he stepped in to lead the Department of Mechanical Engineering.
"Shi-Chune was the solid, reliable, and even-keeled 'go-to' guy that deans regularly called on to manage administrative transitions, chairing search committees and twice serving as interim department head," said Robinson.
Elected a Life Fellow of the American Society of Mechanical Engineers (ASME) in 1988, Yao has served on committees, organized symposia conferences, and co-chaired multiple meetings for the national organization. He also held consulting associations with companies ranging from ALCOA to Westinghouse, and courtesy appointments at several universities overseas.
The department is honored to have experienced Professor Yao's expertise, dedication, wise counsel, and leadership over the years. May we live up to his example of a teacher, a mentor, a colleague, and a gentleman. We wish him all the best in retirement.
Please send your regards to: scyao@cmu.edu.