Robinson reappointed
MechE's department head to serve another term
Jan 19, 2018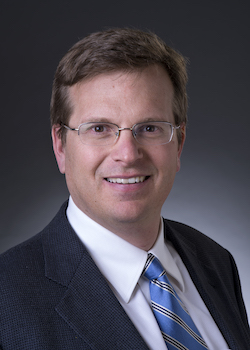 Allen Robinson, head of the Department of Mechanical Engineering at Carnegie Mellon University, has been reappointed to serve another term.
Under his five-year leadership, the department has increased faculty gender diversity, enhanced the quality of departmental space on campus, and strengthened the undergraduate and graduate programs. During this time, a record number of undergraduate students have pursued majors in mechanical engineering.
Robinson has been instrumental in the design and implementation of the College of Engineering's Maker Ecosystem. This initiative encompasses a major renovation of student spaces, laboratories, technical facilities, and workshops in Hamerschlag Hall and the building of the new ANSYS Hall, which will include collaborative learning and work spaces, and a high bay building area for large-scale prototypes.
In the classroom and laboratory, Robinson's teaching and research interests engage technical and policy issues related to the impact of emissions from energy systems on air quality and climate. He is working on developing hyper-local air pollution maps and quantifying the environmental impact of shale gas development.
Robinson is the Raymond J. Lane Distinguished Professor of Mechanical Engineering and also holds a faculty appointment in the Department of Engineering and Public Policy. He serves as the director of the Center for Air, Climate, and Energy Solutions (CACES) and is a founding member of the Center for Atmospheric Particle Studies (CAPS).