Presto earns Dean's Early Career Award
Staff Writer
Jan 25, 2017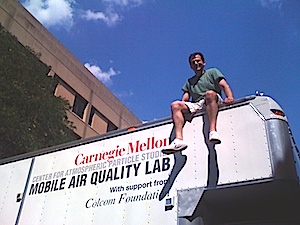 The Department of Mechanical Engineering congratulates Assistant Research Professor Albert Presto on receiving the College of Engineering Dean's Early Career Fellowship for groundbreaking work in his field.
The followship will provide funding to further Presto's research, which focuses on pollutant emissions from energy extraction and consumption as well as the subsequent atmospheric transformations that these emissions undergo.
He studies pollutant exposure, neighborhood-by-neighborhood (in vehicles like the one in the right photo), to understand the relationships between pollutant emissions and adverse health effects like asthma.
He is a member of the Center for Air, Climate and Energy Solutions (CACES) and the Center for Atmospheric Particle Studies (CAPS) at Carnegie Mellon University.
Past recognition has included the Carnegie Science Center Environmental Award (2016) and Pittsburgh Magazine's 40 Under 40 (2015).