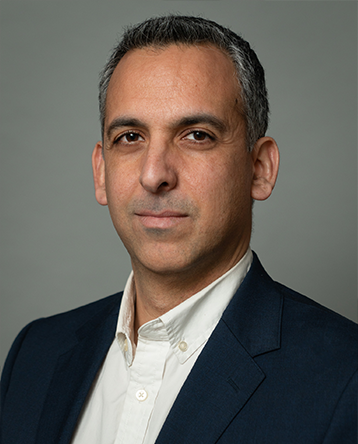 Carmel Majidi's career mission is to discover materials, hardware architectures, and fabrication methods that allow robots and machines to behave like soft biological organisms, and be safe for contact with humans. The aim is to replace the bulky and rigid hardware in existing robots with soft, lightweight, and deformable technologies that match the functionality of natural biological tissue. Currently, his group is focused on filled-elastomer composites and soft microfluidic systems that exhibit unique combinations of mechanical, electrical, and thermal properties and can function as "artificial" skin, nervous tissue, and muscle for soft robotics and wearables. He's particularly interested in approaches that are practical from a rapid prototyping and robotics implementation perspective. This includes efforts to enable robust mechanical and electrical interfacing between soft-matter systems and conventional microelectronics and hardware.
Soft & Stretchable Computing Materials
Electronic Tattoos for Wearable Computing: Stretchable, Robust, and Inexpensive
Self-Healing Electrical Material
Engineering new materials for wearable computing
Soft Machines: New Classes of Materials for Next-Generation Wearable Devices
Education
2007 Ph.D., EECS, University of California, Berkeley
2001 BS, CEE, Cornell University
Media mentions
College of Engineering names 2019 faculty award winners
The College of Engineering has announced the winners of the 2019 faculty awards. They include: Alan McGaughey, Paulina Jaramillo, Jana Kainerstorfer, Reeja Jayan, Carmel Majidi, Jonathan Malen, and Vijayakumar Bhagavatula.
CMU Engineering
Run, robot, run!
Soft robots can mimic a critter's scurry, thanks to shape memory alloy actuators.
GE Reports
GE calls CMU circuits one of the "coolest things on earth"
In their November briefs, General Electric gave a shout-out to Carnegie Mellon researchers' work on electrical circuits. In a section titled "coolest things on earth," GE described how the circuits are ultrathin and can be worn like temporary tattoos to monitor things like heart rate and muscular activity.
Yin places in SWE poster competition
Jessica Yin places 3rd in SWE Undergraduate Research Poster Competition.
CMU Engineering
Electronic tattoos for wearable computing
Cross-Atlantic collaborators have developed a simple, efficient method to make robust, highly flexible, tattoo-like circuits for use in wearable computing.