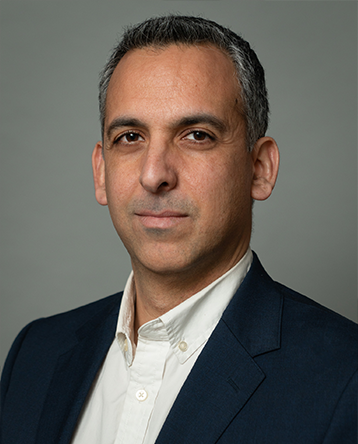 Carmel Majidi's career mission is to discover materials, hardware architectures, and fabrication methods that allow robots and machines to behave like soft biological organisms, and be safe for contact with humans. The aim is to replace the bulky and rigid hardware in existing robots with soft, lightweight, and deformable technologies that match the functionality of natural biological tissue. Currently, his group is focused on filled-elastomer composites and soft microfluidic systems that exhibit unique combinations of mechanical, electrical, and thermal properties and can function as "artificial" skin, nervous tissue, and muscle for soft robotics and wearables. He's particularly interested in approaches that are practical from a rapid prototyping and robotics implementation perspective. This includes efforts to enable robust mechanical and electrical interfacing between soft-matter systems and conventional microelectronics and hardware.
Soft & Stretchable Computing Materials
Electronic Tattoos for Wearable Computing: Stretchable, Robust, and Inexpensive
Self-Healing Electrical Material
Engineering new materials for wearable computing
Soft Machines: New Classes of Materials for Next-Generation Wearable Devices
Education
2007 Ph.D., EECS, University of California, Berkeley
2001 BS, CEE, Cornell University
Media mentions
Three faculty to work on AFRL projects
The Data-driven Discovery of Optimized Multifunctional Material Systems has announced two new projects made possible with support from the Air Force Research Laboratory. Both will focus on how machine learning can contribute to the development of functional soft materials. CEE's Kaushik Dayal and MechE's Carmel Majidi will collaborate on one of the projects, while ChemE's Gabe Gomes will work on the other.
World Economic Forum
Majidi, Yao quoted on softbotics
MechE's Carmel Majidi spoke to the World Economic Forum about softbotics and their capabilities. "Matching how animals transition from walking to swimming to crawling to jumping is a grand challenge for bio-inspired and soft robotics," Majidi said.