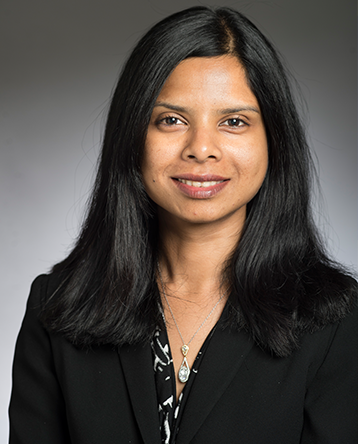 Reeja Jayan is an assistant professor of Mechanical Engineering. She has courtesy appointments in Materials Science and Engineering and in Chemical Engineering. She was previously a postdoctoral associate in Chemical Engineering at the Massachusetts Institute of Technology (MIT) working under the supervision of Professor Karen Gleason. She received her M.S. in electrical engineering and Ph.D. in materials science and engineering from The University of Texas at Austin (UT-Austin), working with Professor Arumugam Manthiram.
Jayan leads a multidisciplinary lab engaged in the molecular-scale design and synthesis of organic (polymer), inorganic (ceramic), and organic-inorganic hybrid thin film materials for applications in energy generation, energy storage, and biosensing. Her work has resulted in 18 peer-reviewed journal publications and the filing of four patent applications. She received the Cockrell School of Engineering Student Leadership Award from UT-Austin, a doctoral fellowship from the American Association of University Women (AAUW), and the H.H. Maharaja of Cochin Endowment Prize from the University of Kerala, India. She is also a member of the MIT Innovation Initiative and a co-founder of the MIT Think Tank, an organization geared towards interdisciplinary problem solving.
Giving a Second Look at Materials, from Cellphones to Clothing
Education
2012 Ph.D., Materials Science and Engineering, The University of Texas at Austin
2008 MS, Electrical Engineering, The University of Texas at Austin
2002 B. Tech., Electronics and Telecommunication Engineering, University of Kerala
Media mentions
Jayan and Ulissi named Scott Institute Fellows
MechE's B. Reeja Jayan and ChemE's Zack Ulissi have been named Wilton E. Scott Institute for Energy Innovation Energy Fellows.
CMU Engineering
Bergbreiter, Jayan win Army DURIP awards
Sarah Bergbreiter and B. Reeja Jayan have received Defense University Research Instrumentation Program (DURIP) awards to purchase vital laboratory equipment for current research and the development of new ideas and techniques.