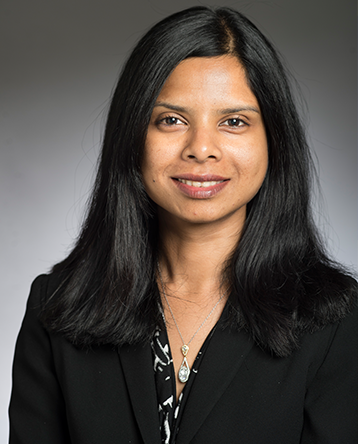 B. Reeja Jayan is an associate professor in Mechanical Engineering at Carnegie Mellon University. She also holds courtesy appointments in Materials Science and Engineering, Chemical Engineering, and Electrical & Computer Engineering departments. Her multidisciplinary lab explores ways by which electromagnetic fields can synthesize materials hitherto unavailable to conventional synthesis routes. These low temperature processed materials directly grow on flexible, lightweight substrates, enabling structurally integrated energy and sensing. Jayan is a strong believer in game based learning methodologies that she uses extensively in her undergraduate and graduate engineering courses. Jayan is a recipient of the 2018 National Science Foundation (NSF) CAREER Award, 2017 Army Research Office (ARO) Young Investigator Award, 2016 Air Force Office of Scientific Research (AFOSR) Young Investigator Award, the George Tallman Ladd Research Award, the Donald L. and Rhonda Struminger Faculty Fellowship, the Berkman Faculty Development Fund, and Pittsburgh Magazine's 40 Under 40 Award. Her research is also funded by the Department of Energy (DOE), Defense Advanced Research Project Agency (DARPA), and by private sponsors.
Giving a Second Look at Materials, from Cellphones to Clothing
Education
2012 Ph.D., Materials Science and Engineering, The University of Texas at Austin
2008 MS, Electrical Engineering, The University of Texas at Austin
2002 B. Tech., Electronics and Telecommunication Engineering, University of Kerala
Media mentions
International Microwave Power Institute
Jayan gives IMPI keynote
MechE's B. Reeja Jayan will give the keynote address at the 54th Annual Microwave Power Symposium on June 15. Her talk, "Why Microwave-heating is More Than Just Heating," examines her exploratory research that lays the groundwork for using microwave fields to engineer new materials. 
Nakamura earns NIST NRC Postdoctoral Research Associateship
Nathan Nakamura has been recognized by the National Institute of Standards and Technology (NIST) NRC Postdoctoral Research Associateship Program. The program brings in research scientists and engineers of unusual promise and ability to perform advanced research related to the NIST mission. A member of Reeja Jayan's Far-From-Equilibrium Materials Laboratory, Nakamura has completed the Ph.D. program in Mechanical Engineering.
Jayan and Ulissi named Scott Institute Fellows
MechE's B. Reeja Jayan and ChemE's Zack Ulissi have been named Wilton E. Scott Institute for Energy Innovation Energy Fellows.