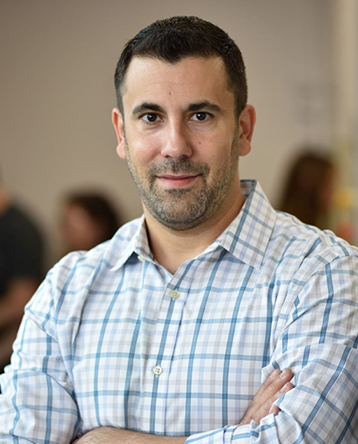 Adam Feinberg is the Arthur Hamerschlag Career Development Professor in the Departments of Biomedical Engineering and Materials Science and Engineering at Carnegie Mellon University, and is the principal investigator of the Regenerative Biomaterials & Therapeutics Group. He has been in a faculty position since 2010 and has been fortunate to receive funding from notable sources including the NIH Director's New Innovator Award, the NSF CAREER Award, and the Human Frontiers Science Program. This has allowed him to rapidly build a group that has trained over 11 Ph.D. students, 11 M.S. students, and 5 postdoctoral fellows. He has published over 40 peer-reviewed research articles and filed over 15 patent applications.
Feinberg's scientific interests are focused on cell-material interactions and understanding how guidance cues can be encoded in the extracellular space to organize multicellular assembly. His background is in materials science and tissue engineering, providing him with a unique skill set to complete this work. His laboratory is investigating protein-based materials composed of nanostructured extracellular matrix (ECM) proteins for application in a range of applications including muscle tissue engineering, corneal repair, and cancer. To tackle these problems they are using tools of nano- and micro-fabrication in concert with molecular biology and 3-D, live-cell imaging of engineered constructs. His lab has recently developed two novel techniques: (i) an ECM shrink-wrapping technique to build a basement membrane around groups of cells and (ii) a 3-D bioprinting approach that dramatically improves the structures that can be biofabricated using soft ECM gels such as collagen and fibrin.
Breakthrough: 3D printing the human heart
Tissue Engineering: 3-D Printing of the Heart and Arteries
Tissue Engineering: 3-D Printing of the Heart and Arteries
Adam Feinberg Demonstrates 3-D Bioprinting Process
Leveraging 3-D Printing to Repair Damaged Hearts
Education
2004 Ph.D., Biomedical Engineering, University of Florida
2002 MS, Biomedical Engineering, University of Florida
1999 BS, Materials Science and Engineering, Cornell University
Media mentions
NIH
New grant to fund cardiac electrophysiology research
BME/MSE's Tzahi Cohen-Karni was recently awarded a $3.1 NIH/NHLBI grant to further cardiac electrophysiology research. Over the next five years, Cohen-Karni will partner with Pitt's Aditi Gurkar (co-PI), BME/MSE's Adam Feinberg, MechE's Carmel Majidi, and ECE's Pulkit Grover to study the role of DNA damage in the cardiac unit using induced pluripotent stem cells.